Civil ceremony at Villa Giona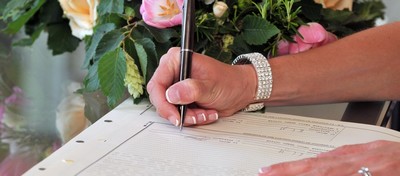 At Dream Academy one of our biggest strengths is that we have been active in working with local authorities to open the doors on new venues for legal civil ceremonies in Italy.

A civil ceremony is one of the most requested type of ceremony for a wedding in Italy.
Italian law states that civil ceremonies must take place in a location approved by the Italian authorities. In most cases they are historical town halls . Occasionally a museum villa, palace or castle which is owned by the town hall has been used for such ceremonies.
In the last couple of years there have been many so called new developments in terms of what is possible for civil weddings with more and more venues now opening their minds and their doors to such events.

As far back as 2002, Dream Academy was already working at promoting new civil ceremony locations when we were able to obtain legal outdoor civil ceremonies in the cloisters of our historic convent villa in Le Marche Region.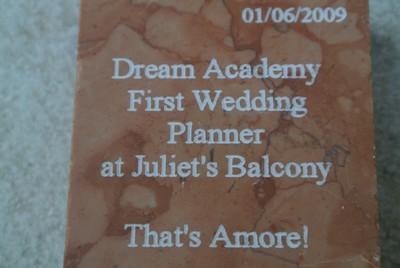 We were also the wedding planners to hold talks with Verona Town Council and therefore instrumental in persuading them to open the doors to a host of amazing new ceremony venues in Verona.
The list of new venues included the famous Juliet's Balcony where we also had the honour of doing the very first civil wedding there on the 1st of June 2009.
We then went on to have the first ever British couple marry there and then also the first wedding proposal thus scoring a hat trick of firsts at the worl's most famous wedding location.
Now we are delighted to announce that we have been given the approval to hold fully legal civil ceremonies in our exclusive flagship destination Villa Giona.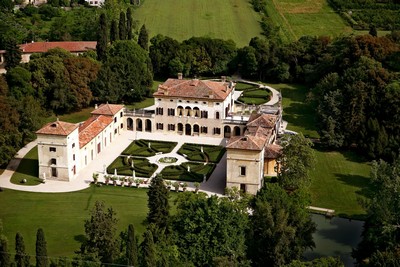 One great advantage of holding the ceremony and reception in the one location is that you can cut the costs of transport also making the logistics of getting your guests to the ceremony on time a much easier one.

Villa Giona is a stunning setting for an Italian Destination Wedding and now with the added advantage of being able to get married there too makes it even more magical.
Contact Us
At Villa Giona Weddings we turn special dreams into reality.
With our creativity, dedication, local knowledge and years of experience we will help you create your dream wedding in Italy to suit your very own personality, needs and budget.

So if you are thinking of Getting Married in Italy contact Villa Giona's in house Wedding Planner:
info@villagionaweddings.com
Tel. +39 339 78 33 907.
We'll leave you to do the dreaming while we get to work on making it come true.