Hair stylish and make up for your wedding day
PRETTY AS A PICTURE !!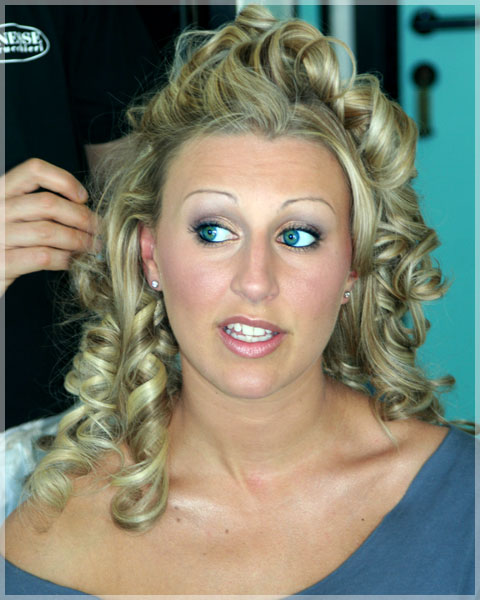 Every bride wants to look her best on her wedding day and here at Villa Giona we have a team of professional Italian hair and make up artists who will come and pamper you in the comfort of your own luxurious suite.
There is nothing that can compare with an Italian wedding hairstylist and our team know how to create a hairstyle perfectly suited for you and your features.
The villa often looks more like a beauty salon than anything else on a wedding day as our beauty experts arrive to transform not only the bride and bridesmaids but often many of the guests as well.
Many brides spend ages and a fortune on bridal magazines to get an idea of how they want to look on their special day.
Hair and makeup are a different priority for everyone, but at the end of the day everyone wants to look back at their wedding album and see how stunning they looked.
The most important thing about your hair stylist and makeup artist is that you feel comfortable not only with them as a person but also with the products they use and how they interpret them for you.
When it comes to looking your best for your wedding day, don't be afraid to try a few different styles and looks. It might take a few trials and hair styles for everything to come together but with the right team, you will look stunning on the day.

POINTS TO CONSIDER:
HAIR
Few brides want radical changes made for their wedding hair style. But good enhancements don't have to be revolutionary. Planning and discreet experimentation is the key to making the right choices. Highlights, curls, subtle trims or creative layering can add luster to your hair and your day.
Do your experimenting at least 30 days before the wedding so you and your stylist can make necessary changes and corrections.
We strongly suggest that you do a trial run no less than 6-8 weeks before the wedding date. This is the time to discuss what you need to do to prior to day of the wedding (i.e.., cut, colour retouch, perm, straightening and/or conditioning). One last question to ask your hair stylist is what to do with your hair the day of the wedding. Should you wash it that morning or not?
If you can't manage over for a trial in Italy then have one done at home and bring lots of pictures taken from various angles
When you go for your hair and make up trials, it is always a good idea to bring along pictures both of your hair style and your dress. A piece of the dress fabric and also your headpiece/veil.
With such a wide selection of headpieces and veils to choose from, it is important that you also consider your hairstyle when making that choice.
If it's going to be elaborate, you're better off with a simpler veil or headpiece. But if your hair will be simple, you can choose something more prominent. Above all, the dress, veil or headpiece, and hair style should be consistent, comfortable and something you feel confident with.
Another point to consider regarding hair is the time of year . If you are having an outdoor wedding/reception, think about how your hair reacts to heat and humidity. Do you have a backup style in mind that will stand up against wind and rain? Are pictures going to be taken outside in the heat, humidity or wind? Make sure your stylist knows the answers to these questions when designing your hair.
Remember, the best hair style for you is one that reflects your personality. It should be a style that is in perfect balance with your headpiece and gown. Your wedding hairstyle should be designed to reflect the beauty of your headpiece, veil and facial structure, yet comfortable enough to last throughout the entire day!
MAKEUP
Italian brides traditionally always have their make-up done professionally and look stunning in their wedding pictures.
A good make-up artist can also guarantee that your perfect glow will last through even the longest and most exciting wedding festivities (including dancing the night away !!).
A good makeup artist should be up to date with new products and trends and feature them in their kit.
Although you may tend to use the same makeup day in day out, be prepared to let the experts tempt and inspire you with new trends. However, by all means feel free to bring along your own particular favourites too.
Unless you have them on a regular basis, a facial will just pull the impurities to the surface and cause you to breakout. Don't make any changes to your skincare products or makeup in the weeks leading up to the event either if you want to look as flawless as possible.
Learning how to apply makeup so that you look good, not only on camera, but up-close and personal when speaking with your guests is very important.
Too much, and your face will look pasty and overdone ; too little, and the camera will wash you out.
It's an art in itself getting the right make up look but with a little practice and the helping hand of our professional artists and their "box of tricks" the end results will be worth it.
Remember that there is a difference between daytime makeup and what you'd wear in the evening, this will also depend on if you are changing dress for the evening or not.
Using good makeup that suits your skin colour and complexion is essential. Using well-chosen quality skin care products to improve your complexion should be high on your list of things to do before the wedding.
Just as with your hairstyle, we suggest a trial run with our make up artist before the wedding day.
Make sure that they will leave you swatches of the products so that you can touch up throughout the day if need be.
This can be left in the capable hands of your bridesmaid to carry for you or Mum's who never forget the essential little bits in their bag on your wedding day.
THE ITALIAN SUN
Most couples choose Italy for their wedding to enjoy the beautiful sunshine.
A healthy tan can look great on a bride but sunburn can be a nightmare.
Do take care not to end up with too much sun which will ruin your make up and also be uncomfortable.
The only lobster we want to see on the wedding day is on the plates at your reception banquet!!!
OTHER BEAUTY TREATMENTS AT VILLA GIONA
We can also supply a full range of beauty treatments such as manicures, pedicures, luxury spa, spray tanning sessions and even a list of pampering for the boys too.
Our team will also be happy to return to the villa before your reception should you want to change hair and make up styles for the evenings events.
With planning, attention and the Villa Giona Weddings Team, your wedding won't be a bad hair day. Instead, you'll look and feel just great.
VILLA GIONA WEDDING HAIR & MAKE UP - YOU WILL LOOK AND FEEL LIKE A PRINCESS ALL DAY LONG