At Villa Giona only the best is served!
Italy is renowned for the quality and freshness of its food and at Villa Giona only the best is served and always with the same top class service which permeates throughout this fine stately home. You can be assured that our menus are made from fresh, seasonal produce which our in house chef Mario and his team will have selected personally.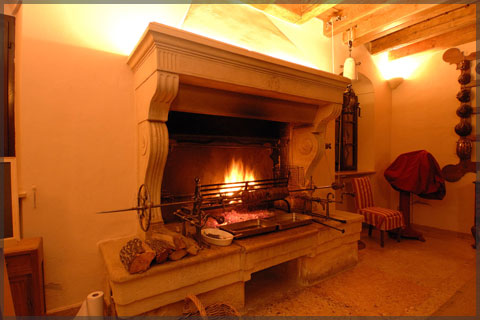 The signature dish at Villa Giona is our "Tortellini di Valeggio" created for the wedding feast of a rich nobleman and his bride to be. The importance of this union was portrayed by a lovers knot tied into the pasta.
Celebrating your wedding day at Villa Giona is just like their famous tortellini: your lover's knots will never unravel. Top quality meats are slow roasted using an amazing spit grill dating back to the 1700's. Selected cuts of home made hams and salamis , local cheeses which melt in your mouth and desserts which are simply to die for. (You can read the article "A Dream Wedding Feast" in our press section). We can also create your own stunning Italian Style Wedding Cake for you to cut in the shade of the sparkling fountains. And why not add a fun element with our Old Style Ice Cream Cart? Apart from the delicious home made "gelato", it is something your guests will talk about for a long time to come. We have a wide range of menus to suit your own taste and budgets and all of our menus include an extensive Champagne/Finger Food Buffet in the park as a prelude to your sumptuous wedding banquet. Our 10 piece Jazz Band is a great accompaniment to this part of your celebrations. We will arrange a consultation and free tasting menu for yourselves and up to another 4 members of your family or friends giving you the opportunity to meet Chef Mario who will be delighted to discuss and advise you of what is seasonal at the time of your wedding. We will be happy to send you some sample menus on request. Our sommelier will also discuss ( and obviously let you taste) some of the fine wines which are produced on the estate.

(See press article: "Wedding Wines from a Wow Factor Villa" ) At Villa Giona, we know what having a good party is all about and apart from our bar situated in the tower, we can also arrange for your very own team of " Liquid Chefs" to come and set up an open bar entertaining your guests with their acrobatic skills and perhaps even creating your very own signature cocktails too.
Pre and after wedding meals and fun BBQ evenings can also be catered for.
A great start or a memorable and to your wedding weekend.
Buon Appetito & Cin Cin !!
Contact Us
At Villa Giona Weddings we turn special dreams into reality.
With our creativity, dedication, local knowledge and years of experience we will help you create your dream wedding in Italy to suit your very own personality, needs and budget.

So if you are thinking of Getting Married in Italy contact Villa Giona's in house Wedding Planner:
info@villagionaweddings.com
Tel. +39 339 78 33 907.
We'll leave you to do the dreaming while we get to work on making it come true.