Special Italian wines at Villa Giona
LADIES AND GENTLEMAN PLEASE BE UPSTANDING AND RAISE A GLASS OF VILLA GIONA WINE!!!
When the subject of wedding wines comes up, we all have visions of everyone holding a glass in hand to toast the happy couple.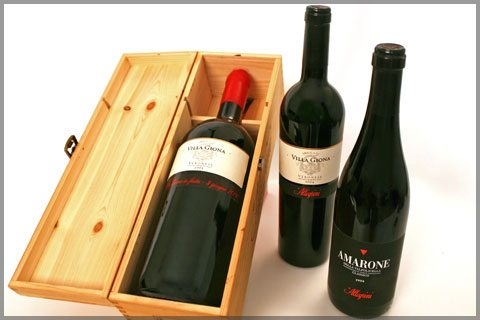 However, which wines to serve with the meal, what to choose for the toasts and how much to order must also be considered.
If you are worried that some of your notoriously thirsty friends might drink you dry then don't worry!!
Here at Villa Giona we never run dry, all we need do is run out and pick a few more grapes and have the lads jump on them and the problem is solved jokes Marion!!
Read more about your wedding wines in our Press Section " Wedding Wines from a Wow Factor Villa".
Villa Giona is set in the heart of The Valpolicella Classico area, which lies within the territory of only five townships - Fumane, Sant'Ambrogio, San Pietro in Cariano, Marano and Negrar - is among the most important wine producing areas in Italy.
Situated in the Veneto Region, north west of the City of Verona, this area has been tied closely to winegrowing and wine since ancient times, as is confirmed by the etymology of its name: "val polis cellae", in fact, means "the valley of many wine cellars".
The Valpolicella is also a privileged land because of its natural scenery, historical monuments, cultural contexts and its original gastronomic traditions, which permit visitors to experience a strong emotional impact.
Some of Italy's and infact the world's best wines are from this area: Valpolicella, Recioto, and of course the King of Italian wines: Amarone. Bardolino & Soave are also close by.
If there is a colour that sums up the Valpolicella Region then it has to be red, the colour of its fine wines.
The love affair between man and his vines is ever present here.
Aged wrinkled hands of the locals who nurture the vines through the Spring rains, the torrid Summer heat and the Autumn winds until the grapes are transformed into fine wines for you to enjoy at your wedding feast.
At Villa Giona your encounter with the fine wines produced here will start from the very minute you step through the majestic gates on your initial sourcing tour.
Our doors, our hearts and a bottle of fine red wine will be open and waiting to welcome you!!

VILLA GIONA
At Villa Giona the wine par excellence has got to be our very own ruby red Villa Giona Wine.
What better way to impress your guests than serving them with the wine produced on the very same estate that you have chosen for your special wedding day?
A few bottles of Villa Giona to take home and drink together in your new home will bring back such wonderful memories of the event.
When it is finished, it is always a great excuse to come back for more!!
Villa Giona is a deep ruby red fine wine with an intense fruitiness on the nose, with fragrance of vanilla, spices and blackberry fruits. In this wine the structure of Cabernet Sauvignon joins with the smoothness of Merlot and its persistent finish is enriched by the spicy tones of Syrah.
A bottle of Villa Giona Wine is the perfect accompaniment to Italian antipasti, soups, pasta dishes and to the wide variety of dishes that the Mediterranean area has to offer. Villa Giona also compliments roasted and grilled white meats. It is also an ideal summer red to drink with fish dishes.
Serve at 16 C (61 F) and open the bottle a few minutes before drinking.
Villa Giona Wine - It's our baby and very special to us!!
The Villa Giona vineyards produce grapes for one of Italy's most prestigious wine producers Allegrini.
Passion, tradition and meticulous care distinguish Allegrini products and make them unique.
Ancient tastes, which the Allegrinis have succeeded in reinterpreting to meet the taste of a faithful, but modern and demanding public.
The extraordinary richness of the company's wines, the intense perfumes of their grappas, the ancient taste of their oil and vinegar, produced with almost obsessive attention to the finest details, from the plant to the fruit, to bottling: this is what the Allegrini Winery is capable of offering to their visitors and long-standing clients.

Some of the other wines you can sample at Villa Giona are:

VALPOLICELLA
A youthful, medium-bodied ruby red wine with a fresh, cherry perfume. Made from Corvina Veronese, Rondinella and Molinara grapes.
Although best drunk young, to enjoy its aromatic quality to the full, it will age for 2 - 3 years. This is the perfect accompaniment to Italian antipasti, soups, pasta dishes and to the wide variety of dishes that the Mediterranean area has to offer. Valpolicella also compliments roasted and grilled white meats. It is also an ideal summer red to drink with fish dishes.
PALAZZO DELLA TORRE
This wine is produced using an innovative RIPASSO method. Well-structured, smooth and rounded, this wine is characterised by a long, elegant finish. Deep ruby red in colour, it has a delicious wild berry perfume, with flavour of raisins. Made from Corvina Veronese, Rondinella and Sangiovese grapes.
This wine will age easily for 8 - 10 years. Palazzo della Torre is great with a wide range of risotti (particularly with pork), mixed grilled meats, roasts and the traditional Veneto boiler meats bollito misto.
LA GROLA
A full-bodied deep ruby red wine, which is intense and elegant. A bouquet with scents of wild berries and juniper, tobacco and coffee essences. Made from Corvina Veronese, Rondinella, Syrah and Sangiovese grapes. It can age for 10 - 12 years and it makes a perfect partner for red meat, either roast or in brown sauces, especially lamb. It is also delicious with stewed or grilled mushrooms and with mellow, aged cheeses.
LA POJA
This is a complex, full-bodied monovarietal wine with intense ruby red colour and perfume of blackberries and spices. Made from Corvina Veronese grapes. This wine is absolutely original for the Valpolicella Classico area. It indeed reveals the character of the most important indigenous grape of this region, which traces its legendary origin precisely on this hill. The inspiration behind this monovarietal lies with Giovanni Allegrini and stemmed from his passionate belief in the land on which he lived.
It has the potential to age for 18 years. La Poja makes an ideal accompaniment to roast red meats and game. It is excellent with aged cheeses, and a perfect match with dishes made with white or black truffles.
AMARONE
A well-structured, complex, elegant and velvety wine, with intense ruby red colour. It has a warm and spicy bouquet, with aroma of raisins. In fact, it is made from dried Corvina Veronese, Rondinella and Molinara grapes, by using the thousand-year-old technique of APPASSIMENTO: after being harvested, the grapes are left to dry for three to four months, Amarone is an extremely important wine in Italian viticulture, a unique and unrepeatable symbol of the Valpolicella region. In the course of time Allegrini has improved its production with the aim to best preserve the characteristics of the fruit and has established itself as one of the truest interpreters of its uniqueness.
It can age for 20 years. This wine is traditionally drunk with game, roasted and grilled meats, casseroles and well matured cheeses. Excellent with hearty dishes. Since the grapes are allowed to dry partially before fermenting, Amarone has a distinctive flavour which can also accompany new or exotic sweet and sour dishes. It is therefore also perfectly suited for drinking with asian and middle-eastern dishes.
RECIOTO GIOVANNI ALLEGRINI
This sweet wine, deep ruby red in colour, has a spicy bouquet with hints of dried fruit and is full and velvety on the palate. It shares with Amarone the technique of APPASSIMENTO, the naturl drying of the grapes Corvina Veronese, Rondinella and Molinara, yet it differs in that the fermentation process is interrupted, before all the grape sugar can change into alcohol. This extraordinarily concentrated wine is named after the founder of the winery, Giovanni Allegrini, who chose it as his favourite. Traditionally this wine is enjoyed with dry desserts, such as shortbread, cantucci (dry almond biscuits), sbrisolona (local crumb cake) but it is also ideal with strawberries and tropical fruits. Thanks to its outstanding roundness, it makes a perfect partner for some cheeses, especially a mild Gorgonzola.
Villa Giona Wines CIN CIN That's Amore!!