GETTING TO KNOW EACH OTHER
Villa Giona Weddings request the pleasure of your company to join us on a FREE SOURCING TOUR of our stunning property and to show you from a local's point of view the wonderful Valpolicella / Verona area.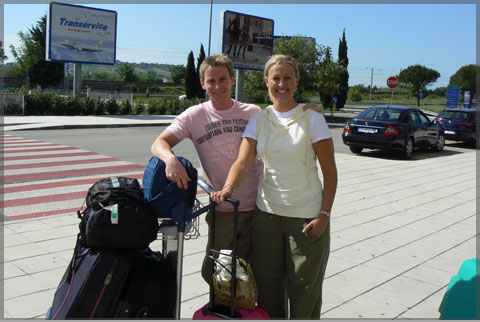 We will pick you up at the airport and from the very first minute you enter the majestic gates of Villa Giona, our doors, our hearts and of course a bottle of our fine wines will be open and waiting to welcome you to your home in Italy.
An Inspection trip is a great way to get valuable information about your wedding day possibilities, budgeting, time planning, legal requirements, and discuss your ideas and wishes with us.
We firmly believe that one visit to your venue before the wedding is absolutely essential -- the pictures on many wedding planner and venue websites can sometimes be deceiving and often they are out of date or simply pasted from another site of a venue they have never used before so take care when choosing your venue and wedding planner in a country many miles from home!!!
It's important to know exactly what you are getting. You'll likely see something - a view you love, a room you want to place a certain guest in but quite simply to be able to picture your venue and take before and after pictures for your album.
We will show you around our wonderful home, leaving you time on your own to explore and feel the place without having someone sitting constantly on your shoulder!!
Time to savour your first kiss under the cypress trees or amid the vineyards (many more will follow)!!
Time to envisage what your dream day will be like. To start living the dream.

We will also take you to source your ceremony venue - religious or civil and also to visit some of the key players who will play a part in making your day complete.
Our photographer, florist etc will also be happy to meet with you during this time and spend time showing you what they can offer and getting an important first impression of what you are looking for.
We are happy to leave you to chat to them and take away their brochures etc., we never hide from you who or where they are !!
We will often suggest lunch or dinner together when we can sit down and have a real good chat getting to know and trust each other.
By the time you leave after your initial inspection visit, you will be ready to start the planning of your special day knowing that you have met the people you have trusted with such a special day in your life and who will be working together to help you create your Wedding in Italy.
We aim to make the planning part fun and stress free, something you can look forward to and enjoy and so an inspection visit gets that all of to a great start.
You will also have lots of useful tips and information not only about Villa Giona but about the Valpolicella area and Verona too, which will enable you to talk about it to your family and friends and to feel that you know what it is all about rather than feeling a bit out of things and not knowing what to answer when they start to fire all sorts of questions at you !!
Some couples also do a second visit to confirm any last-minute details or changes and to make sure everything is in order, but that isn't always necessary.
However, we will be delighted to welcome you back again and we also offer free menu & wine tastings for yourselves and up to 4 other members of your family or friends.
Many people ask us, "Can we bring one or both sets of parents/ brothers/sisters or friends on our inspection visit"?
Of course you can and they are more than welcome.
We will be happy to assist you in finding a hotel for you during the inspection visit or if you wish to stay at Villa Giona then we have a very special reduced rate for this.
Our time during the inspection visits is free of charge and we do not ask you to sign a wedding contract with us before we will meet you!!
We don't limit you to a couple of hours, but will spend as long as you need in order to feel that you are making the right choice.
Our contract will only come into force when you are 100% happy that Villa Giona is the ideal location for your wedding day.
Thank you for trusting us with your Wedding Day.
It will be just as precious to us as it is to you - That's Amore
Contact Us
At Villa Giona Weddings we turn special dreams into reality.
With our creativity, dedication, local knowledge and years of experience we will help you create your dream wedding in Italy to suit your very own personality, needs and budget.

So if you are thinking of Getting Married in Italy contact Villa Giona's in house Wedding Planner:
info@villagionaweddings.com
Tel. +39 339 78 33 907.
We'll leave you to do the dreaming while we get to work on making it come true.