Your Wedding Album or Video
Your Wedding Album or Video, along with your own fond memories of a perfect day, is what will remain for years to come and so getting the right photographer is just as important as selecting the right dress, menu, venue, husband etc!!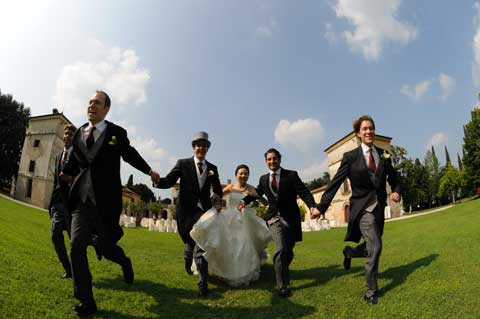 We will arrange for you to meet with our photographers as early on as your very first sourcing visit because we strongly believe that after the ceremony and reception venue, the photographer is perhaps the next important key player in your plans for the big day.
Bear in mind that just like venues, the best photographers get booked well in advance. Try to have an idea in mind of the type of album you envisage and the kind of shots you want. Do you want a traditional style album or something a bit more contemporary and creative? Do you want a traditional type of service ? A photojournalism approach ? Or perhaps a combination of both?
A good photographer must be able to capture architecture, still life and people all at the same time.
He must be able to compose the shots rather than just shoot as so many of today's digital photographers tend to do.
He must be able to do this in a natural, un- contrived and unobtrusive way capturing the joy, emotions, love and the essence of your personalities in an accurate account of the event .

They must be good at observing people in order to capture those special moments as you look fondly at each other or share a stolen kiss.
To catch Mum as she sheds a tear or Dad as he proudly leads you to your future husband.
Catch kids being naughty or simply being cute !!
They must always remember that it is your day and that you call the shots!!
It is always a good idea to use a local photographer as they know just where to go for the best shots, they also know the weather and light conditions too.
If you are considering bringing your own photographer along from home, then it is a good idea to have them chat with someone local to find out what the policy is during the ceremony and also to have them point out some good locations to show that you are actually having a destination wedding. Many UK photographers will jump at the chance to add an Italian Wedding to their portfolio but often will give you an album that fails to capture the fact that your wedding was in a foreign land.
Often you will get the same group shots that you would in the UK but with sunshine being the only addition!!
Make a list of the shots you would like and of any special groups etc you want captured.
Try to do this in advance as on the wedding day you will have too many other emotions to deal with.
Look to finding shots/settings which are typically Italian such as a field of sunflowers, a vineyard, an olive grove, a moped, the carabinieri in their car, a Fiat 500 or even an ice-cream!!
Try to set aside time for your photographer after your ceremony and to be relaxed and happy.
It is a good idea to arrange something for your guests while you are having some photos done: perhaps a drink at a lakeside bar, an ice cream or a champagne reception. Happy and relaxed people make for great shots. Don't worry about them for a short time, most people love the idea of having time to look and discover a new and interesting place.
Villa Giona Wedding Photographers: You are sure to click!! That's Amore!!!
Contact Us
At Villa Giona Weddings we turn special dreams into reality.
With our creativity, dedication, local knowledge and years of experience we will help you create your dream wedding in Italy to suit your very own personality, needs and budget.

So if you are thinking of Getting Married in Italy contact Villa Giona's in house Wedding Planner:
info@villagionaweddings.com
Tel. +39 339 78 33 907.
We'll leave you to do the dreaming while we get to work on making it come true.