Villa Giona's Garden
Villa Giona is set in a peaceful green oasis of beauty and tranquility and surrounded by a romantic Italian style garden complete with sparkling dancing fountains and statues.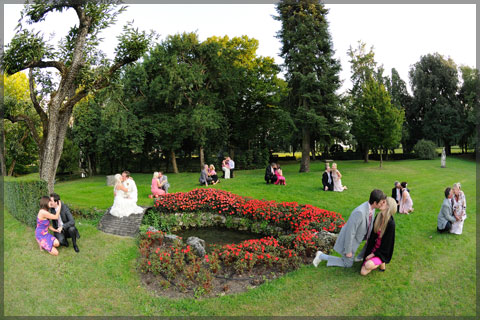 The only thing to break the silence will be the birds as they serenade you while you soak up the beauty of what lies before your eyes.
The estate is surrounded by 25 acres of gardens and working vineyards where some of Italy's most famous wines are produced.
September is an ideal month for you to see the wine harvest take place but of course all year round we are more than happy to give you a tour of the vineyards and explain their working to you.
This can be followed with a visit to Allegrini one of Italy's most prestigious producers of fine wines.
Wine tasting events can be set up in the garden with no shortage of samples on hand.
You can read more about our wines in the article "Wedding Wines from a Wow Factor Villa" under our press section.
The large swimming pool is an ideal place to relax and get an enviable suntan for the wedding day.
Set in the midst of fruit orchards and olive groves, the views are simply stunning.
Vineyards stretching as far as the eye can see, olive groves and fruit trees surrounding you, rows of tall proud cypress trees and small hilltop villages set the scene for a truly Romantic Italian setting.
The small lake with its wooden bridge and large heart shaped flowerbed is a great place to relax and also a great place for wedding photos too.
Our resident peacocks have their home in this area and will often perform for you as they strut proudly around.
The beautifully kept lawns are perfect for a symbolic ceremony, exchanging of vows, and of course for your sumptuous outdoor wedding banquet.
Just picture our fabulous 10 piece jazz band set up on the lawn as they entertain your family and friends during your welcome champagne and finger food buffet when you get back from your ceremony.
No shortage of healthy walks around this great estate and lots of space to enjoy the company of your family and friends whilst at the same time being able to find special secluded little corners where you can enjoy just being on your own when you want to.
My favourite is the circle of cypress trees set at the far end of the estate and where very often we set up a candlelit table for 2 allowing you to enjoy some quiet quality time together with a bottle of wine and your own thoughts .
A truly magical setting and a real treat for your senses and soul.
Villa Giona Gardens An Escape From Reality: That's Amore
Contact Us
At Villa Giona Weddings we turn special dreams into reality.
With our creativity, dedication, local knowledge and years of experience we will help you create your dream wedding in Italy to suit your very own personality, needs and budget.

So if you are thinking of Getting Married in Italy contact Villa Giona's in house Wedding Planner:
info@villagionaweddings.com
Tel. +39 339 78 33 907.
We'll leave you to do the dreaming while we get to work on making it come true.