Wedding flowers
Flowers are one of the most important elements of your wedding day.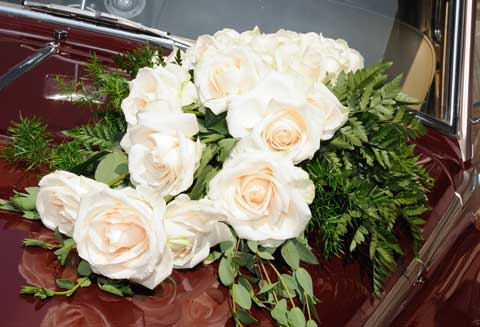 They set the mood and tone for the event and will be remembered for years to come
Flowers can really help to make your wedding day perfect. There are so many beautiful flowers and creative designs to choose from that it is often difficult to know where to start.
The inspiration and creativity of our " garden gurus" Alessandro & Andrea will help you to style and design the right look for your Dream Italian Wedding at Villa Giona.
The boys have the finest selection of flowers available and so, together you will create a myriad of shapes, colour, textures and scents in stunning displays, bouquets and table decorations.
Alessandro & Andrea are an award winning team and highly sought after floral designers for weddings throughout Italy.
Floral consultation
It is important to build trust and confidence in your floral designer and so we will arrange a free consultation with our team in order to draw up your personal creative brief.

They will discuss with you your colour scheme, dress style, ceremony & reception venues and also your own likes and equally important dislikes in order to get to know you and to provide you with the right flowers for your special Villa Giona Wedding.
Our team will also accompany you on a venue inspection to discuss on site your floral plans.

Try to prepare some ideas before you meet with the florist. Look in wedding magazines and on the web for ideas. There are lots of magazines dedicated to wedding flowers. Look at different bouquet designs, colour schemes and individual flowers to get an idea of what you like and try to bring along the following items when you have your consultation with our floral designers:
Picture/drawing of your dress and fabric swatch if possible
Venue photographs and layout of the building
Colour schemes for the day and any theme ideas you may have in mind
Bridesmaid's outfits and swatches
Likes and dislikes (Your dislikes are of equal importance)
Your budget
They will also share their own ideas and extensive portfolio with you, sowing seeds of wisdom and perhaps giving you ideas you hadn't thought about.

It is also important to discuss your budget for wedding flowers with them. They can then work within this budget and suggest the best cost effective arrangements for you.
Costs will depend on your style and choice of flowers in season at the time of your wedding.
Most flowers can be obtained all year round, but if they are out of season, they can be a good bit more expensive. Very often Alessandro and Andrea will be able to suggest similar flowers which are in season at the time and therefore generally less expensive.
To have and to hold
Your bridal bouquet will play a leading role on your wedding day: you will carry it down the aisle, hold it in many of the photographs and finally (perhaps) throw it over your shoulder to your waiting girlfriends at the reception.
Your bouquet is your ultimate accessory on your special day and should be a part of you.
Our florists will be able to advise you on the best type of bouquet to suit the style of your dress and also which flowers will compliment your complexion and hair colour.
If possible, bring along a sample of your dress fabric and colour and also those of your bridesmaids dresses. If you can't get the actual dress fabric then a photograph is next best thing.
The florist must be able to design the bouquets to compliment the style of your dress not to compete with it!
Wedding floral traditions
Flowers have been part of wedding ceremonies since at least Roman times, when the bride and groom wore garlands.
In Elizabethan times people would give the groom sprigs of rosemary to symbolise faithfulness and to ensure future happiness for the bride. Some brides carried pretty little sprigs of rosemary tied with lace.
During Victorian times the bride's posy would included myrtle, as a token of love.
During the late nineteenth century shower bouquets were popular and they usually contained orange blossom, considered a symbol of chastity. Victorian brides would then plant cuttings of myrtle from their bouquets into their garden, to use in the bridal bouquets of their own daughters. Princess Anne's bridal bouquet in 1973 used myrtle planted from Queen Victoria's bouquet in 1840.
The Greeks developed 'The Language of Flowers' where individual flowers had a meaning. The Victorians became very interested in these meanings in 1820, and lovers would communicate by exchanging flowers. It was popular during the Victorian period for the bride to spell out a word through her choice of bouquet flowers, for example love (using lilies, orange blossom, violets and euphorbia.
The tradition for the bride to throw her bouquet is also an old one.
The bride throws the bouquet backwards and over her shoulder towards the guests and the lucky lady who catches it is will be next to marry according to tradition.
If you can't bear to part with your lovely bouquet, then don't worry, our team will be happy to create a special smaller version of it for you to throw to your waiting girlfriends as they line up for the rugby scrum as their partners wait anxiously on the sidelines!!!
More modern trends and styles
Simple and elegant designs are popular at the moment; these include hand-tied bouquets and also just a single flower to create an elegant and minimalist look.
Many brides now want to accent their bouquets by incorporating diamantes, crystals and beads into the design.
The use of decorative wire has also become very popular and is great for those looking for a modern look to their bouquet.
Incorporating feathers into the bouquet design is another way of adding a contemporary and modern touch.
Roses are still the most popular wedding flowers. But tulips, calla lillies and gerberas are also very popular. Orchids , Anthuriums and Protea are also popular choices.
Red and white are probably still the two most popular colours. But brides are becoming much more daring in their colour schemes with lots of requests for pink, purple and burgundy.
When speaking to brides a frequent request for their wedding bouquet design is to have it 'traditional with a contemporary twist'. They often say that they don't want their bouquet to look like their Mum's but then again they don't want something that is way-out and radical. A contemporary stylish look can be achieved by using contemporary flowers, design and accessories.
Careful use of foliage can also add style and interest to your bouquet as can the use of ribbon in hand held bouquets.

Votive candles, storm lanterns, torches and roman candles, glass vases filled with pebbles or sand, fruits and vegetables, rose petals and floating arrangements are all very popular for venue decoration.
At one recent wedding where a country look was desired, we had some wonderful table decorations done in teacups and teapots which created a country look which was very elegant at the same time.
The use of tall arrangements on a glass structure with hanging strings of crystals or pearls is also very popular.
Candelabras are also making a big return to the scene.
Just one word of advise when using candles, make sure that they are out of the way of children and also not in areas where long floating chiffons are likely to come into contact.
Also make sure that glass containers used for candles are heat resistant.
Minimal and elegant are two words I often hear used to describe how the modern bride envisages her venue decoration.
At Villa Giona, you already have a great start with the Italian Gardens and sparkling fountains creating a natural and ready made garden of eden.
Being embraced by such wonderful vineyards, grapes, olives and wine glasses can be used to create a wonderful theme for your floral decoration.
So give us your ideas and put our "floral gurus" to the ultimate test.
Villa Giona Weddings Floral Designers - A Blooming Great Team!!!