Wedding cakes
The history of the wedding cake goes back as far as the Roman Empire, well before the concept of elaborately icing a cake, was invented. Through the years, the wedding cake has become the focus of a variety of customs and traditions. Some of these customs have survived through time. Some have not. The custom of breaking the cake over the bride's head, is thankfully no longer practiced!

Wedding cakes take center stage in the traditional cake cutting ceremony, this is symbolically the first task that bride and groom perform jointly as husband and wife and is a tradition that most of us have witnessed many times.

The once simple wedding cake has evolved into what today is a multitiered extravaganza. The multitiered wedding cake was originally reserved for English royalty.

What bride does not dream of a traditional English/American-style wedding cake designed and realized just for her, even if she is having a destination wedding in Italy?

In Italy the traditional British / American style of wedding cake with a rich fruit filling, marziapn and icing, is still a fairly new concept to most Italian bakers but that said, a traditional Italian Wedding Cake remains visualy stunning and truly scrumptious.

In Italy we belive that the cake should not only look great but taste even better!
The focus is very much on using fresh ingredients in an elegant way.

If you have a particular cake design in mind then our expert pastry chefs will work with you to provide your dream wedding cake using delicious fillings and decorations making your cake a true work of art.

A wedding cake with a difference?
We have even had a very unique cheesecake for a couple who had more of a savoury approach to their wedding cake.
Layers of tasty local cheeses were used to produce a very eye catching wedding cake with a difference.
Some of our couples prefer to bring a more traditional British / American cake over with them and we are happy to assist you in presenting this in a majestic and magical atmosphere.

With no shortage of flowers, candles and lanterns to add to the setting.

For those of you who really want the cherry on the cake, why not plan the cake cutting to an amazing firework display?

At Villa Giona we always go that extra mile to also fulfil your wishes of a more tradional UK / American style cake and as part of our trusted team of suppliers have great pleasure in offering the services of Melanie at L'Arte della Torta.
Melanie creates some of the best and most beautiful custom designed American Style / UK style wedding cakes for Destination Weddings in Italy.
Her cakes are not just cakes which taste incredibly good but more works of art.

She will work together with you to create a bespoke cake in keeping with your wishes and design making sure that your Italian Wedding Cake not only looks good enough to eat, but that it really is !

Her work has been featured on Martha Stewart Weddings and Vogue so for the real icing on the cake, just let us know and we can get Melanie to do a personalized quote for you.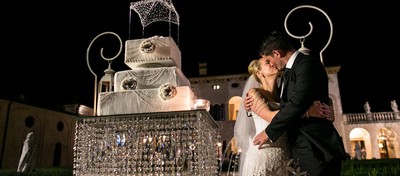 This is one of her creations which she did for our lovely couple Kay and David .
Kay started off by choosing her cake stand before the cake but then that is Kay!
She had a beautifully custom made crystal stand made which was going to be transformed into a chandelier after the wedding.
A great and unique memory of the day and the cake.

Melanie worked to produce the perfect cake in keeping with Kay's theme of diamonds, crystals and vintage look.
It was amazing and I am still licking my lips at just how good it was too.
Melanie I still have extra inches on my hips thanks to you!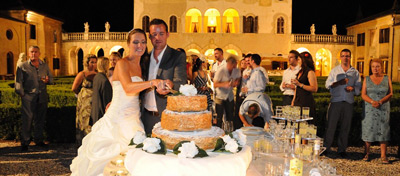 Traditional Italian Wedding Cake Fillings:The Millefoglie
Perhaps the most popular option for Italian couples. A crisp puff pastry with a cream chantilly and vanilla filling. Add some chocolate chips and the result is an absolutely scrumptous, cruchy, creamy , melt in your mouth sensation! This cake can be made as one layer or made into a wonderful tiered creation.
---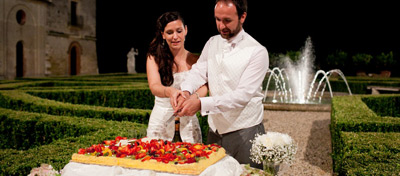 Also great using seasonal fruits: Fresh Fruit Cake
A light sponge base using fresh chantilly cream topped with colourful fresh seasonal fruit.
Highly colourful and deliciously fresh and tasty.
Ideal on a Summer's evening.
---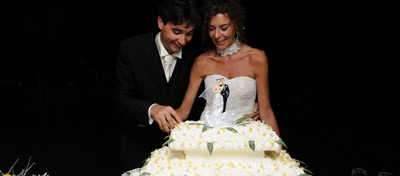 Torta Mimosa
A light vanilla sponge base with fresh cream and fresh succulent pineapple chunks.
Deliciously fresh on a hot summers evening.
---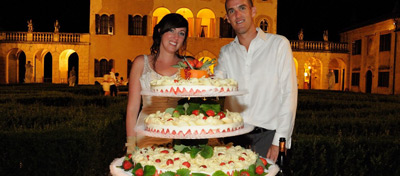 Bavarese
A light vanilla sponge with cream and a variey of fresh fruits.
A favourite is with strawberries and white chocolate shavings.
Looks stunning as a tiered cake.
---
Meringata

A light fluffy Meringue base, with whipped cream and a choice of fruits or delicious chocolate chips.
All cakes in this gallery have been made in Italy by our team of highly qualified pastry chefs.

Villa Giona Wedding Cakes Truly Scrumtious - THAT'S AMORE!!
Contact Us
At Villa Giona Weddings we turn special dreams into reality.
With our creativity, dedication, local knowledge and years of experience we will help you create your dream wedding in Italy to suit your very own personality, needs and budget.

So if you are thinking of Getting Married in Italy contact Villa Giona's in house Wedding Planner:
info@villagionaweddings.com
Tel. +39 339 78 33 907.
We'll leave you to do the dreaming while we get to work on making it come true.