Clare & Danny
Saturday 24th May 2008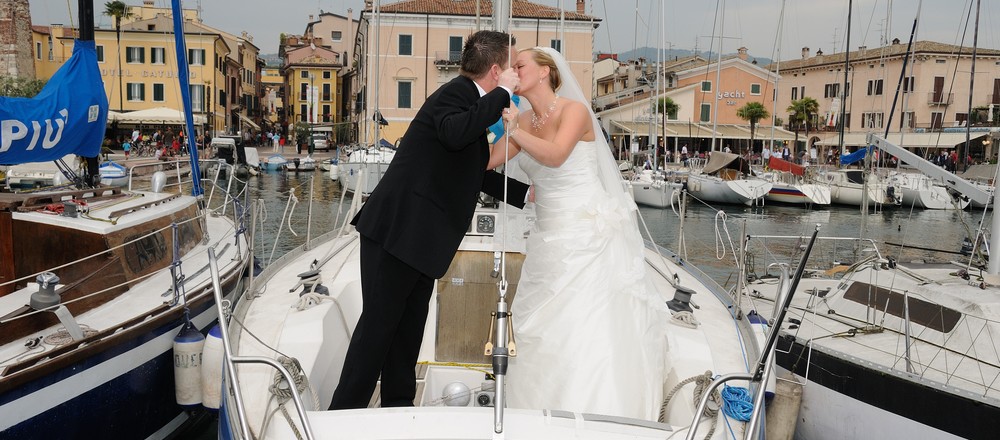 Clare & Danny
Our special day was a breeze, no stress, no worries. The sun shinning and our guests enjoying the sun shine around the pool at Villa Giona. I was whisked off to have my hair done and left everything for everyone else to sort out!
A coach collected our 50 guests from the Villa at around 2.30pm and yes there was a little rain on the journey to Lake Garda. I followed with a tearful Dad, a jolly Bridesmaid and a very calm Franco driving us. Marion was lucky enough to take the Groom and best man.
Our ceremony was in the beautiful Lake Garda town of Bardolino. The sun came out as we arrived and it was truly a dream. The service was perfect and so romantic being read in Italian and then translated by Marion in English, with a few jokes thrown in it was a joy for everyone. We had photos taken on the lovely balcony of the Municipal Building with all the town watching.
Our guest went of to a bar for drinks while me and Danny went off to the edge of the Lake and on to a boat for our Photos. The Photographers were great and we had a lot of fun.
Then it was all off and back to Villa Giona for our reception. When me & Danny arrived we were lead through the reception hall of Villa Giona to a Harpist playing, fountains splashing and the sight was something I will remember my whole life. The tables laid out in the grounds under huge shades, a buffet for our guests at the other end of the garden and the staff all waiting dressed to perfection. Our guests enjoyed the buffet while our photos were taken, drinking wine and Champagne to help the thirst! Our sit down meal was to die for with beautiful food and amazing wine.
When darkness fell, candles were lit all around the gardens, our cake was cut by the fountain and the party got under way. We had a really great evening, dancing the night away. I can not put into words how magical our day was.
I found Marion & Franco on the internet after going though several companies, none of which were much help. But Marion rang me and there was no going back. I told her what I wanted and she delivered. Marion found us Villa Giona and the Municipal building at Bardolino and we never looked anywhere else. We went over to Italy twice before the wedding and they were always there, spent a lot of time driving us around, talking to us and getting to know us. We could not have arranged out day without them. They were friendly and guided us in the right direction at all times. Dream Academy were exactly that……a dream. Paolo and the staff at Villa Giona were also wonderful.
Thank you all XX
Testimonials archive
Kristina & Simon
Saturday 31st August 2013

Kristina & Simon Villa Giona

Laura & Stefano
Friday 26th July 2013

Laura & Stefano Catholic Ceremony in Church on the hill above Villa Giona and Reception at Villa Giona

Lauren & Brian
Thursday 27th June 2013

Lauren & Brian Civil Ceremony at Villa Giona

Liz and Paolo
Saturday 22nd September 2012
Kay and David
Saturday 15th September 2012

Kay & David Verona / Villa G